Wishes Granted by Maymont Volunteer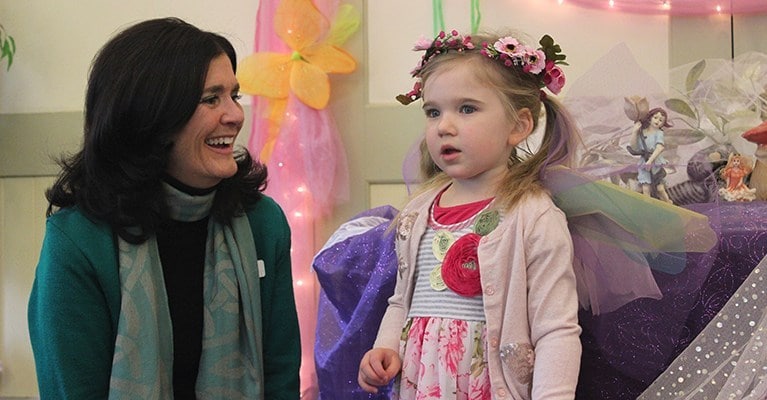 Carrying large bins filled with whimsy and wonder, Maymont volunteer Kathleen Hershner maneuvered her way down a sloping gravel path to the Garden Hall on a recent Saturday, preparing for another magical afternoon at the estate. Her embroidered purple jacket was perfectly fitting for a Maymont party, and her enthusiasm added sparkle to the ordinary meeting room before she even opened the boxes of frills. Soon, she was joined by the Fairy Godmother herself, also known as Sandie Harding, and they got to work moving in and setting up decorations, costumes, linens, wings, wands and fairy dust.
Kathleen volunteers at Maymont several times a month to help Sandie present Victorian Tea and Fanciful Fairy birthday parties for children, complete with stories, games, activities and an optional horse-drawn carriage ride.
"Now that I'm retired," Kathleen says, "I feel compelled to give back to Maymont with my time and energy to ensure that the next generation of Richmonders will continue to enjoy and learn here," Kathleen said. "It's a delight to watch the children become enthralled with the Fairy Godmother's stories as they learn to fly with their new fairy wings, make special fairy wand wishes, and find their magic. Introducing these youngest Maymont visitors to our beautiful park is a special joy for me."
Kathleen has enjoyed outings to Maymont with her family since the late 1970s when she visited for the first time with her husband, then fiancé. She started volunteering three years ago at the Maymont Mansion reception desk.
"When I told them I had been speech language pathologist and I had worked with children, they asked me if I would help with the birthday parties. So, I said 'sure, why not?'" Kathleen explained of her changing volunteer role.
Since that fateful 'why not,' Kathleen has put on dozens of lavish parties, at a rate rivaling Sallie May Dooley, for whom the estate was named. Kathleen may not portray the Fairy Godmother, but she still grants wishes as she gingerly pours 16 cups of tea, hands out golden rocks and magical leaves, and brings smiles to a room full of little fairies. She also is a shining star in the Maymont volunteer corps.