Ultimate Fall Planting Guide: When, What & Why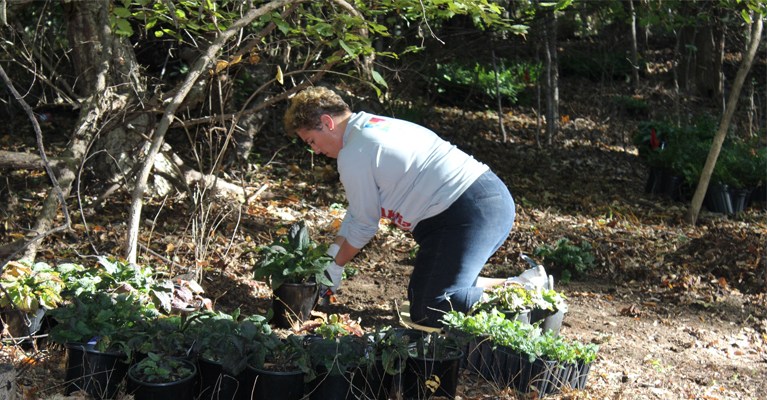 Ahhh, the cooler temperatures of autumn! They are met annually with celebration, like a prize earned for enduring a Central Virginia summer. Fall is a great season for evaluation and renovation in the landscape and in the garden because of lower temperatures and higher rainfall. Fall is surely the best time of year to plant in Central Virginia.
That's exactly why the Central Virginia Nursery and Landscape Association, a professional group of local nursery and landscape professionals, launched its grassroots campaign, Fall is for Planting. First, the cooler air temperatures reduce the stress on transplanted trees, shrubs, and perennials, while the warm soil temperatures that persist through the winter encourage root growth. Fall's frequent rains keep the soil moist and pliable, while the cooler cloudy days enable the plant to acclimate with less stress. Typically, insects and diseases subside, increasing a plant's chance for survival in the new location. On a practical note for homeowners, during the fall, plant sales are plenty at local garden centers and nurseries for great savings on landscaping essentials. Finally, planting deciduous trees and shrubs while they are dormant, after leaf drop, enables the plants to focus their energy on root growth. Roots will continue to grow during the winter months since the soil temperature (yes, soil temperature) typically stays above forty degrees. This means trees, shrubs, and perennials planted in the fall are months ahead of their counterparts planted in the spring due to winter root, and they are better acclimated and prepared for summer's brutal heat.
We've established that fall is the best time to plant. Now, how to choose which plants to add to a landscape? Guidance is available through certified professionals at your local garden center, the members of the Central Virginia Nursery and Landscape Association (cvnla.org), or the Virginia Society of Landscape Designers, (vsld.org). These resources can provide a garden consultation or a full landscape design with suggestions for the right plants for your garden environment. When making a plant choice, it is important to consider the growth habit of the plant, the bloom time, fall coloration, whether the site receives full sun, part or full shade, and the soil conditions. Blending Virginia native plants into the landscape will provide food, cover, and nesting options for songbirds and pollinators.
– Peggy Singlemann, Director of Park Operations and Horticulture