Tiffany & Co. Tour de Force at Maymont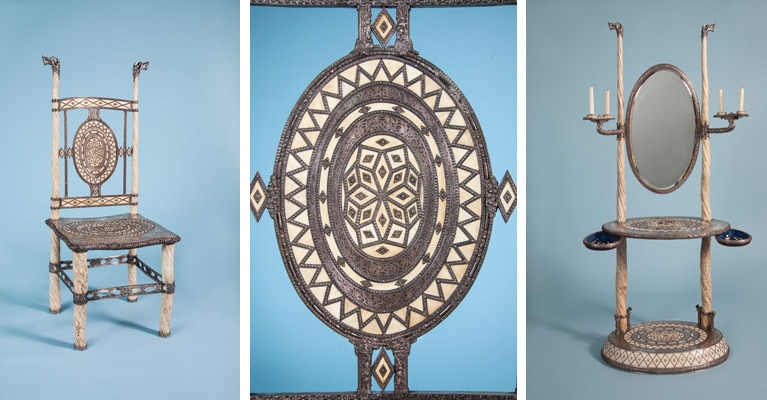 When Maymont Mansion guests regain equilibrium after their first glimpse of Mrs. Dooley's Swan Bed, their attention is drawn to another equally fantastic piece—the extraordinary dressing table and chair made by Tiffany & Co., America's premier designer and retailer of luxury items. It's fashioned from elaborately chased sterling silver and four entire narwhal tusks. Without a doubt, it is one of Maymont's greatest treasures.
In 1905, when Tiffany & Co.'s new flagship store on Fifth Avenue opened, well-heeled clientele flocked to the palatial Venetian Renaissance-style building. Among them, according to the recollections of Mrs. Dooley's great nephew, were James and Sallie Dooley of Maymont. Perhaps it was that very day that they gazed upon the remarkable, recently-completed Tiffany & Co. creation. Soon thereafter it graced Mrs. Dooley's boudoir, and in 1925 became part of the Maymont bequest.
The overall effect of the Maymont set is one of sheer luxury and exoticism—an example of the "conspicuous consumption" of the Gilded Age. However extravagant it seems, silver furniture was not unprecedented. It was the height of fashion for 17th century royalty. And during the heated competition among designers vying for awards at the great expositions at the turn of the twentieth century, there was a spate of furniture made of silver and other costly materials.
Setting the Maymont ensemble apart from all other silver show pieces of the era is the use of narwhal tusks, which form the posts and legs of the chair and the dressing table. Maymont guest reactions range from "Awesome!" to "What's a narwhal?" The male of the Arctic species, a whale (monodon monoceros), grows a long, twisted ivory tusk from its upper jaw. Viking seafarers passed off the tusks as unicorn horns for a king's ransom in Europe during the Middle Ages. In the 16th century, Queen Elizabeth acquired a carved narwhal tusk set with jewels, paying what was said at the time to be enough to purchase an entire castle. A coronation chair, incorporating multiple narwhal tusks, was created in 1671 for the king of Denmark.
While Mrs. Dooley's own narwhal throne stands alone among decorative arts of the Gilded Age, it aligns with two themes that emerged at the time — 1) Arctic designs with polar bears, walruses, and icebergs, inspired by 19th century exploration of the far North and 2) Viking-inspired design, which would have made the news beginning in the 1880s because of major excavations of Viking ships in Norway. Tiffany & Co. first introduced its Viking pattern in 1893 at the World's Columbian Exposition, displaying a Viking punch bowl that is now in the Metropolitan Museum. Even a replica of an ancient ship was displayed in a lagoon at the exposition in celebration of Viking exploration of America. Designs for the vanity set made for the Maymont ensemble, referred to as the "Viking Toilet Table," are dated 1903, the very year that an ancient burial ship was discovered in Oseberg, Norway. With its narwhal tusks capped by silver dragon-head finials, much like the prow ornaments of Norse long boats and fantastic interlaced beasts reminiscent of early medieval carved decoration, Maymont's dressing table and chair are the ultimate expression of Tiffany & Co.'s Viking style.
Its over-the-top design, luxurious materials, and allusions to a romanticized past would have held a strong appeal for the Dooleys. It stands out not only as one of the greatest treasures of their collection, but moreover a Tiffany & Co. tour de force of world-class significance.
– Dale Wheary, Curator and Director of Historical Collections & Programs