The Nuptials of James Dooley and Sallie May – September 11, 1869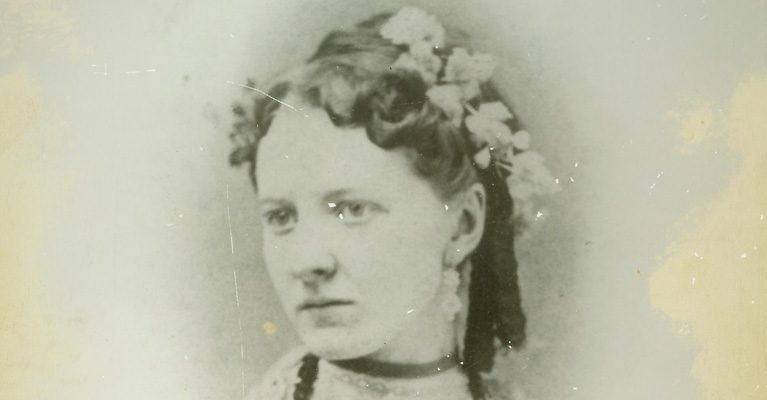 No documentation has yet come to light to tell us exactly where and when the courtship of James Dooley and Sallie May blossomed.
Could they have met at one of the many mineral spring resorts in the mountains of Virginia (and what became West Virginia) where polite society gathered in the summer? White Sulphur Springs perhaps? Or not far away, Sweet Springs—"The Old Sweet"—built by ancestors of the husband of Florence Dooley Lewis, James' sister who went there to live after her marriage. Or could it have been at the wedding of a mutual friend or relation? Perhaps the wedding of James' sister Mary who married Sallie's distant cousin Robert McCandlish Jones in 1864. (1)
While we do not have the answer to these questions, a letter in the Maymont Mansion Archives does give us a glimpse into their budding romance. Sallie wrote:
"Why do you speak in such a way of my love, as if you still doubted its existence? Is it because I do not write in as affectionate a strain as you do? Whilst it is entirely proper & most becoming in you to assume that style, I cannot divest myself of the impression that it would be a little unmaidenly in me to express the feelings I entertain for you. But when I have a right to show the world the love I glory in, you will be fully satisfied with its strength and depth . . . . Your own, S. May."
Fortunately, the lovebirds only had two weeks to wait.
Yet their path to the altar was not entirely without conflict. The bride was Episcopalian, and the groom was Catholic. It was a time when marrying outside of one's denomination was not entirely smiled upon. Apparently, the groom's family would have preferred that he marry within their faith. And the bride's father, Dr. Henry May, did not approve of her marriage to a Catholic. The nuptials, however, proceeded on September 11, 1869—performed by a Catholic priest. The wedding took place in Staunton, Virginia at the home of Sallie's sister Lucy and Lucy's husband Dr. Benjamin M. Atkinson.
Another letter in the Maymont Mansion Archives from James to his mother tells us about their wedding trip. The couple spent their first night at the Willard Hotel in Washington and then went on to Chicago for what appears to have been a combination honeymoon and business trip. We are not surprised to learn as James writes, "I am afraid that [Sallie] does not enjoy this part of her trip very much, as I have to leave her from Breakfast until Dinner by herself." True to form, the ambitious young man goes on to add, "I am going to make a fresh start and hope to make some money."
And of course, we all know the rest of the story . . . the bride and groom in this love story went on to live happily ever after.
(1) The Civil War era photograph of Robert McCandlish Jones hangs in the hallway outside of Major Dooley's bedroom. He was a close war-time friend of JHD's younger brother John E. Dooley.
-Dale Wheary, Curator and Director of Historical Collections & Programs