Supporter Profile: Jody Korman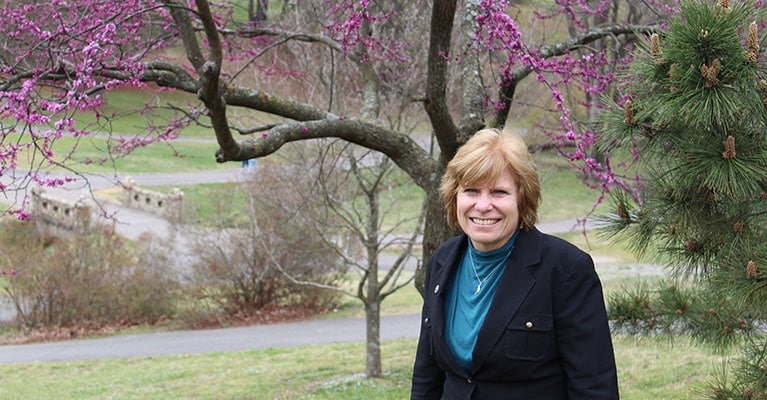 Describe your first Maymont memory. How did you end up at Maymont for the first time? Were you with family or friends?
I visited Maymont with my family after we moved here from Waukesha, Wisconsin. I remember being impressed by the preservation of the Mansion and enjoying the many beautiful walking trails. On our way to the Nature Center, we got to see so many animals – a bobcat, a gray fox, bald eagles, goats, sheep, a donkey, cows, chickens, horses, pigs, rabbits, etc. Finally, at the Nature Center, we saw otters, many fish, baby alligators, frogs, seahorses, salamanders, snakes and, of course, the huge snapping turtle. It was so fun. My family has a real love for animals, nature, and the outdoors, so discovering Maymont in the heart of Richmond that day was so exciting. Whether its camping, swimming, fishing, water skiing, hiking, biking, running – you name it, we love it all.
Describe your most recent visit to Maymont. Were you with family or friends?
I visited the Nature Center to present a donation to give back to the community in which I serve. While there, I visited the otters. I love visiting them, especially because I had the special opportunity to name Louis in 2016 as part of a package I won at that year's Vintage Maymont. I chose the name Louis in honor of my best friend's grandson who's also named Louis. He's a precious and energetic youngster and I love spending time with him.
What has surprised you most about the Maymont experience over the years?
I'm surprised every year at how many events and opportunities Maymont offers. I'm also surprised at how Maymont is always so well maintained. Its grounds are always fresh, and I know how difficult it must be to maintain 100 acres.
In what ways do you support Maymont and what inspires you to do so?
I enjoy supporting the aquatic animals at Maymont's Nature Center not only because I'm an avid scuba diver, but also because of how Maymont affects the lives of Richmond's youth. I was a nature girl growing up and attended week-long camps during the summer, so I know how important it is to offer hands-on environmental education. Programs like the ones Maymont offers are what encouraged me to become a YMCA Executive Director running summer camps and after school programs. I've heard countless stories of my friends' children growing up at Maymont and volunteering for the Maymont Foundation along the way. The whole Richmond community grows when this happens. The strong foundation and commitment to Maymont that so many families share grows, too. I applaud Maymont's outstanding leadership and commitment to the community. It really shows that they are great stewards of our hard-earned dollars and that their mission is a worthy cause to support. I believe in Maymont; I believe in leaving a legacy.
In one sentence, how would you describe Maymont to someone who has never heard of it before?
Maymont is a place to visit that is welcoming to all persons, offering a wide assortment of activities no matter your age or fitness level.
Someone you know is making a movie about Maymont. What song would you choose for the movie's opening credits and why?
I'd choose "Song Ripplin Waters" by the Nitty Gritty Dirt Band because Maymont famously overlooks the James River.