Santa, Sparkles & Scraps: A Guide to Maymont's Christmas Ornaments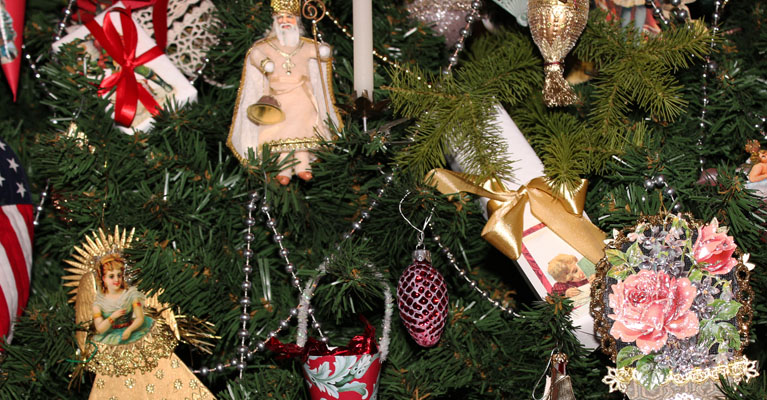 Every room in Maymont Mansion is decked out for Christmas 1893, the first holiday Major and Mrs. Dooley celebrated in their new home. And of course, the Christmas tree in the Blue Drawing Room represents one of the most universally beloved traditions of the season. Maymont's tree reaches to the ceiling – 12 feet high – and is draped with yards and yards of silver and gold glass beads. Each year, two staff people spend one entire day winding the beads and putting more than 400 ornaments on the tree.
In 1893, many ornaments found on Christmas trees were handmade. Crafty ladies loved to make decorations from bits of lace, beads, fancy paper, spun glass, cotton batting, fabric, silk flowers and sentimental colored images called "scraps." Dogs and cats, children, pretty ladies, flowers and angels were beautifully detailed, thanks to recent advances in the color printing process.
From Germany came embossed gilt medallions, trim, stars, snowflakes and wings for angels that transformed a simple ornament into a work of art. Subtle gold and silver tinsel trim provided halos and fringe, while ground mica was added for the glitter effect. (Maymont and Martha Stewart's favorite source for Victorian reproduction ornaments is www.Blumchen.com.)
Around this time, store-bought ornaments appeared on the scene. In the late 1880s, a businessman, F.W. Woolworth, discovered amazing handmade blown-glass ornaments while visiting Germany. He imported these to his variety stores and quickly sold out! Each year he ordered more and delighted his customers with colorful Santas, birds, musical instruments, churches, cuckoo clocks, fruits, nuts, acorns, storybook characters – the selection seemed endless.
Maymont's tree features a special ornament – a green glass pickle. Search for the origin of the legend of the pickle, and you'll find conflicting stories but all have the same happy ending. The first child to find the pickle, hung last and carefully hidden among the green branches, receives an extra present (in prosperous homes like the Dooleys') or a year of good luck.
Speaking of presents, small boxes tied with satin ribbon, fancy paper cones filled with candy and nuts or even toys were placed on the tree to serve as decorations and special treasures for the little ones!
Like many at the turn-of-the-century, Maymont's tree also is patriotic. It has an American flag – with only 44 stars, the number of U.S. states in 1893.
There are hardly two ornaments alike on the Maymont tree. Take a look for yourself during a Mansion holiday tour or Old-Fashioned Christmas (always the first Sunday in December) – and tell us which is your favorite.
– Nancy Lowden, Manager of Historical Programs