Mobilizing the American Home Front, 1917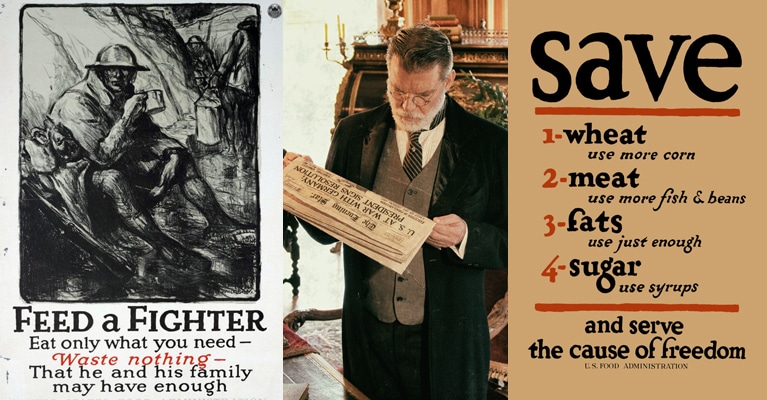 Immediately upon the United States' entry into World War I on April 6, 1917, the government had to focus all the nation's resources on mobilization. Because many Americans had been very reluctant to enter the conflict, the Wilson Administration decided to establish a task force to turn public opinion, the Committee of Public Information. Under this committee, the Division of Pictorial Publicity was headed by famous American illustrator Charles Dana Gibson, husband of the famous Virginia belle, Irene Langhorne. Gibson recruited some of the country's most prominent artists to create patriotic posters that encouraged Americans to help the war effort.
Appeals were made to patriotism through colorful posters placed in public spaces. They were posted on the sides of buildings, on billboards, work places, windows of homes, on streetcars, and in magazines. Posters promoted recruitment, wartime thrift, aid for soldiers, and the sale of war bonds. The U.S. produced more propaganda posters than any other nation.
Who Pays the Bill?
Wars are expensive. For this war, the federal government decided to pay through one-third new taxes and two-thirds sale of war bonds, in effect borrowing from individuals in the general population. Within a month of the declaration of war, the first in a series of Liberty Loan drives was launched to fund the war through the sale of bonds. Bonds were promoted in one of the greatest advertising efforts ever, including poster art and rallies featuring silent movie stars and performers such as Charlie Chaplin and Al Jolson. Demonstrating his patriotism, James Dooley made a $500,000 bond investment, which, according to a headline on the front page of Richmond's News Leader May 24, 1917, was the largest made by any Virginian.
How Will the Soldiers and Others Be Fed?
Since 1914, the U. S. had been helping to alleviate dire food shortages in England and France, yet shortfalls in the American wheat crop were making matters worse. President Wilson appointed Herbert Hoover as U. S. Food Administrator to help ensure sufficient food for the U. S. and Allied armies as well as civilians. A voluntary program for modified eating habits was promoted, including "wheatless Wednesdays" and "meatless Mondays." Posters in work places and public spaces called upon Americans to conserve food to help "feed a fighter." The National War Garden Commission was formed, promoting the planting of vegetable gardens in backyards, at churches, in public parks, and vacant lots. Thousands of women joined the Woman's Land Army to help replace farm workers who had gone "over there." Aided by sacrifices at home, American shipments helped prevent famine, such as the horrendous conditions experienced by Armenians. For generations to come, American children at the dinner table heard the admonition "remember the starving Armenians." Surely, dining with the Dooleys would not have been the lavish affair it was prior to the war.