James Patrick Lewis
CHAUFFEUR & BUTLER, 1920s
Brother of Georgia Anderson
James Patrick Lewis (1896-1960s), brother of Maymont employee Georgia Lewis Anderson, is listed on the 1920 census as a 24 year old, literate, unmarried Black male, working as a butler in a private residence. His name appears as "James Anderson" at 2024 Gilbert Street—an enumerator error, likely made because James Lewis was residing in the house of his sister and brother-in-law, Benjamin Anderson. Oral history information from Audrey Smith, daughter of Georgia Anderson, indicates that his sisters Mable and "Kissy'' (Kesiah) resided there as well.
Mrs. Smith noted that James Lewis worked at Maymont as a yard man and occasional butler. The oral history of Virginia Fife Twiggs Alexander, with whose family staff member Fannie Waddy resided at Maymont, indicates that Lewis also served as chauffeur, when needed.
James Lewis's foster-niece, Ruby Childs, has clear memory of "Uncle Jimmy." After his tenure at Maymont, he worked for Dr. and Mrs. Robert Bryan on Monument Avenue from some time in the 1920s until after World War II. Although he was primarily the chauffeur and butler, Mrs. Childs recalls that he also made a garden for the Bryans. He also taught his niece about gardening. She recalls, "He gave us a love of nature."
Following Dr. Bryan's death, Mr. Lewis went with Mrs. Bryan when she relocated to the Prestwould Apartments on Franklin Street.
According to his niece, Audrey Smith, Mr. Lewis married late in life. His wife was Idelia Haskins, who lived in as a maid for a family in Byrd Park Court. After his death, Mr. Lewis was interred at Woodlawn Cemetery.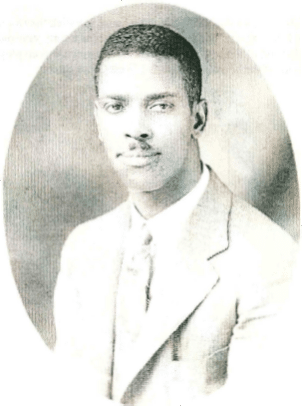 Georgia Lewis Anderson
LADY'S MAID, 1920s
Sister of James Patrick Lewis
Georgia V. Lewis Anderson (1891-1948) worked as Sallie Dooley's lady's maid in the early 1920s. Never residing at Maymont, Mrs. Anderson and her husband, Benjamin, lived at 2024 Gilbert Street near Maymont's Virginia Avenue entrance. This property belonged to Georgia Anderson's parents, James and Martha Lewis. After her marriage around 1910, Mrs. Anderson and her husband Benjamin moved in and cared for her widowed mother and siblings: Annie, Keziah, Mabel, Grace, William, James and Johnny. In time, Georgia and Benjamin Anderson had a daughter, Audrey, and raised two foster children, Russell Epps and Ruby Britt (later Childs).
Georgia Anderson first appears in the Richmond city directory in 1913 as a laundress. She is listed again in 1920 as a domestic. In the 1920 federal census, she is described as a married, Black woman who is literate and 29 years old. She is listed as a cook for a private family. Her husband, Benjamin Anderson, is identified as head of the house, age 45, and a driver for a bakery.
Mrs. Anderson's descendants recall that she assisted Mrs. Dooley with personal grooming, bedroom and clothing care. They indicated that she also helped cook and serve at Maymont when required, and would do laundry on occasion as well. In the 1920s, Mrs. Anderson's brother James Lewis was also employed at Maymont as a butler.
After 1925, Georgia Anderson was employed by the City of Richmond as a guide and housekeeper at Maymont House throughout the remainder of her life—an appointment that, according to her foster-daughter Ruby Childs, was recommended by Sallie Dooley before her death. While referred to as "Georgie" in the Maymont Hostesses' Day Book maintained in the post-Dooley years, Mrs. Anderson's descendants have indicated her preference for "Georgia." Her daughter, Audrey Smith, noted that her mother was an excellent seamstress, took on another part-time job at a shirt factory in Bowling Green, Virginia. She would catch the viaduct train to and from work.
Before her marriage, Mrs. Anderson was a member of Fifth Baptist Church; afterwards she and her husband were members of Sixth Mount Zion Baptist Church. The Andersons moved to 705 South Meadow Street about 1946. After her death two years later, Mrs. Anderson was interred at Woodlawn Cemetery.