SAVE THE DATE
Friday, June 16 and Saturday, June 17
Carriage House Lawn (1700 Hampton Street)
Music under the stars at Maymont - what a way to kick off summer! Pack a portable chair or picnic blanket and spread out on the spacious Carriage House Lawn for two evenings of tunes.
Between sets, watch the sun set over the rolling hills of Maymont, and enjoy tasty food truck cuisine and alcohol, available for purchase during the concert. All proceeds benefit Maymont.
More details to come in the Spring!
FRIDAY: South Hill Banks with The Wilson Springs Hotel
SATURDAY: Three Sheets to the Wind with Skydog
Tickets will go on sale this Spring.
Maymont members and guests who present an EBT card receive a discount!
FRIDAY
SOUTH HILL BANKS WITH THE WILSON SPRINGS HOTEL
SOUTH HILL BANKS
Lance Thomas (vocals, guitar), Dan Fiasconaro (vocals, guitar), Eric Horrocks (mandolin, vocals), Noah Stidham (Banjo, Vocals), and Justin Doyle (upright bass) – have carved a niche for themselves with their jam infused bluegrass sound. Formed in August 2015 in Richmond, Virginia, South Hill Banks pulls from a wide range of influences such as classic rock, jam, blues, to traditional bluegrass to keep audiences entertained with a blend of sounds old and new.
THE WILSON SPRINGS HOTEL
The Wilson Springs Hotel are a high-powered country and bluegrass outfit based out of Richmond, Virginia. The band combines tones of traditional country and western swing, bluegrass, folk, and rock to create a unique sound that is simply their own. The band travels as a five-piece unit; coming from a diverse background of musical influences, they bring new and exciting stylings to the classic sounds of American Country and Bluegrass. Since forming in the beginning of 2021, the band has toured up and down the East Coast and have hit many of the major markets in the Mid-Atlantic region gaining new fans and listeners along the way. They released their debut self-titled album in the Fall of 2021 and are slated to release their sophomore
record in the Spring of 2023. The Wilson Springs Hotel are Jacob Ritter (lead vocals, acoustic guitar), Victor McManus (electric guitar, pedal steel, banjo), Brendan Boylan (fiddle), Sebastien Richard (bass), and Pat Bowdring (drums).
SATURDAY
THREE SHEETS TO THE WIND WITH SKYDOG
THREE SHEETS TO THE WIND
Yacht Rock - noun \`yät `räk\
1. AM Gold classics from the '70s & '80s, undoubtedly the
smoothest music ever created by mankind.
2. Music played by the most interesting band in the world...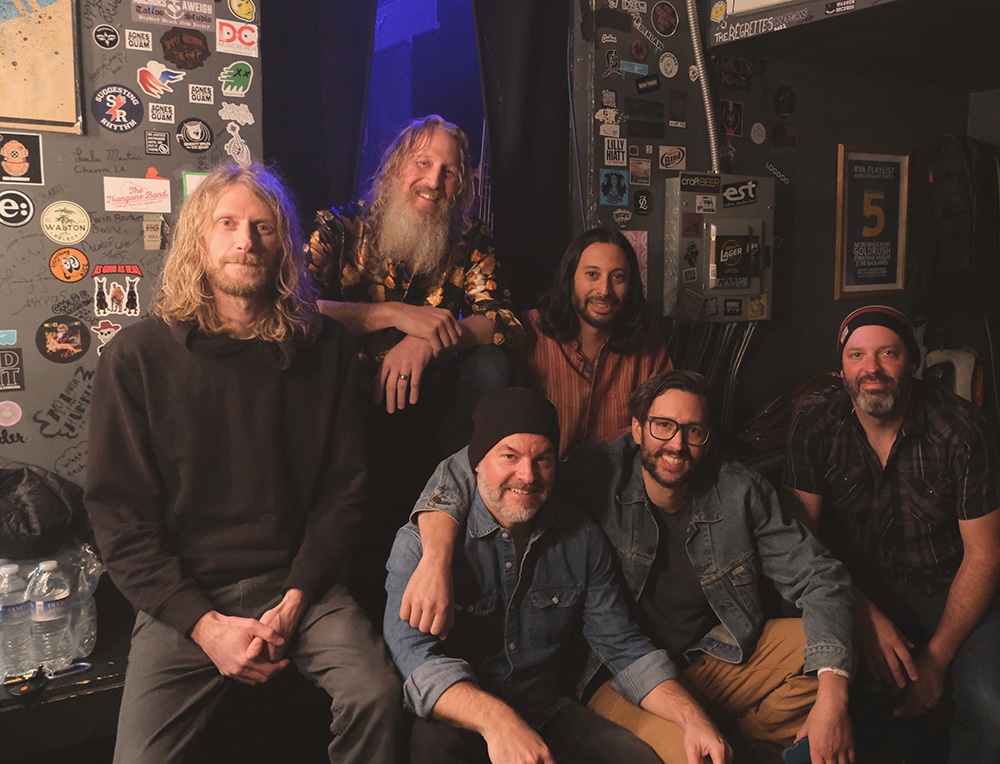 SKYDOG
"To be the best damn Allman Brothers tribute band in the world," remarks Jeremy Simmons with a tinge of well-earned confidence when speaking on the mission of the renowned SKYDOG.
Comprised of Virginia natives, the band admirably revives the music of the late brothers with a palpable passion that is so gleamingly apparent.
As a band that has been performing since 2009 , SKYDOG has earned a following that ranges from a nostalgic fanbase reminiscing on the Fillmore East years to an ecstatic crowd of rhythm and blues, rock, jazz, classic country and sheer music appreciators.