Garden Glow presented by Kroger
THANK YOU ALL FOR AN AMAZING SEASON!
Thursday, October 13 – Sunday, November 6.
Times Vary.
Carriage House Lawn (1700 Hampton Street)
Don't miss the 5th annual Garden Glow, presented by Kroger, October 13-November 6! Starting at sunset, dramatic lighting transforms the historic architecture and gardens into a magical experience for the whole community.
This year, the experience will be bigger than ever, illuminating the iconic Italian Garden, the WestRock Woodland Trail and the Japanese Garden presented by Colesville Nursery. On the Carriage House Lawn, find expanded seating and art installations at the Glow Village, along with food trucks, fire pits, a Glow Bar and Glow Shop – fun for friends, family or date night in an unforgettable setting.
The event has capacity limitations and time slots fill quickly! Please purchase tickets in advance so you don't miss your chance to experience this year's Garden Glow presented by Kroger.
Free parking is avalable at the Historic Estate Entrance, The Robins Nature Center and street parking where available. Directions to parking lots can be found here.
Guests will enter at the Magnolia Gates, which are located at the north end of the Hampton Street parking lot. Guests will exit through the Historic Estate Entrance at the south end of the Hampton Street parking lot.
Proceeds benefit Maymont; no refunds.
Maymont members receive the best discounts on Garden Glow presented by Kroger and other events and exhibits. Become a member today!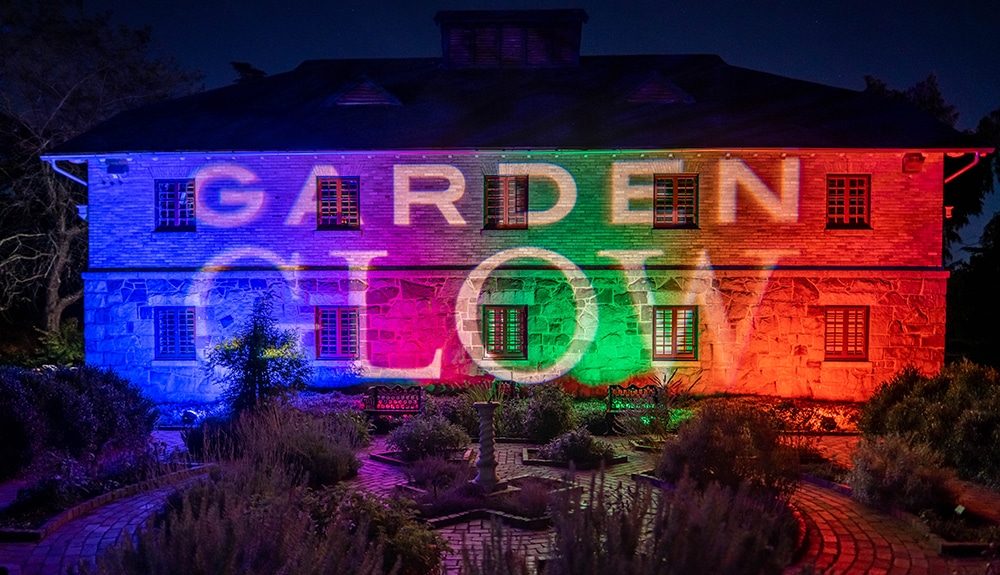 NEW THIS YEAR!
Local artists Jeff Dobrow and Alfonso Pérez Acosta are using light to create one-of-a-kind art installations on site: Alfonso Pérez Acosta will engage local school children in a participatory art project to paint designs on lightbulbs that express their "inner glow." These will hang along with hundreds of the artist's own hand-painted bulbs, lighting up the interior of the arborvitae grove. And artist Jeff Dobrow will project an animated light show on the historic water tower by the Carriage House featuring a menagerie of mesmerizing illustrations inspired by Maymont's plants and rescued wildlife inhabitants. In the Japanese Garden, Dobrow will highlight the patterns and textures of animals and plants with a more abstract animation that will play across the natural and man-made structures in the garden.
In the Glow Village, Aukward Designs will craft a life-size version of a colored light-peg board that guests can arrange in colorful designs of their own. And back by popular demand is a giant shadow wall where you can strike a pose.
WHAT TO BRING
Garden Glow presented by Kroger is a self-guided walking event. Sneakers or other closed-toed shoes are highly recommended.
This is 100% outdoors and the temperature will drop throughout the evening. Warm layers are recommended.
Bring a valid ID for proof of age if you wish to purchase alcohol. Alcohol will be served only to those age 21+.