A Tribute to Ford Reid, Volunteer of the Year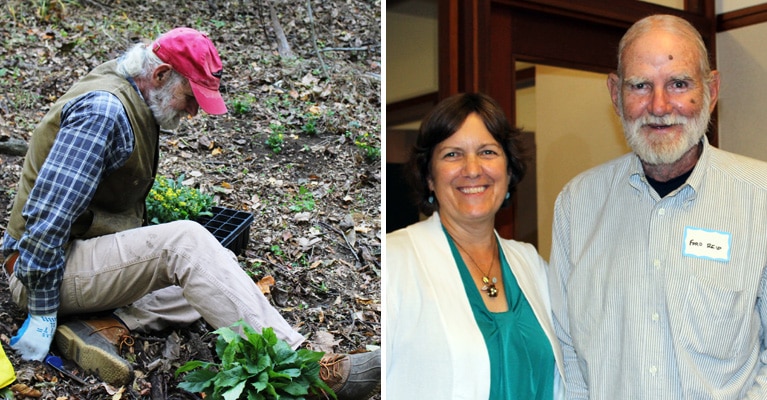 We were missing a Very Important Volunteer at our annual Volunteer Appreciation Reception last week. Ford Reid, our Volunteer of the Year (for the fifth year in a row!), was unable to attend. But Peggy Singlemann, our Director of Horticulture, honored him with the following tribute, which is well worth repeating here.
Ford frequently told me that his 50 hours of required community service for a speeding ticket was the best punishment he ever received. He has continually debated with Fred Murray, our Associate Executive Director, and me that Maymont did more for him than he did for Maymont. As I briefly summarize my friend's contributions including thousands of donated hours over the years, I think you will side with me on this issue.
While volunteering at Maymont, Ford has been willing to do just about any task except pull weeds. Yes, Ford is that person who would keep the tools sharp, run to Maryland to pick up one special tree, manually remove algae from the Japanese Garden pond, run the chipper with Art Croft, or work side by side with Scott Martin making hundreds of wooden paperweights. He has done so with a genuine love of Maymont and his fellow volunteers.
Arriving for "work" at 8am, Ford started each day talking with other early birds or completing another step in an ongoing project. He always had a story to share, kept us up on the world of baseball, and spoke proudly of his family. When he returned from weekend visits to his place in the Northern Neck, we knew when he stopped by his favorite hardware store because he would come bearing gifts of a new gadget or hand saw that he thought useful. And he was always right!
For all that he gave, Ford was a humble man who never wanted to be in the spotlight. This time of year he always would ask me not to honor him, instead to choose another volunteer to celebrate. And next year, unfortunately, he will get his wish, though not in the way he would have wanted. Our dear friend has suffered many health setbacks these past few months, so he is no longer able to join us in the gardens. Saying we miss him is an understatement.
Thank you, Ralph Ford Reid, for having a heavy foot on the accelerator pedal in Farmville all those years ago and sharing far more than 100-fold your 50 hours each year since. One more time, we celebrate this extraordinary man who has done so much more for us than we for him. There, I finally got the last word!
– Peggy Singlemann, Director of Horticulture