125 Treasures: Portraits of James Henry Dooley and Sallie May Dooley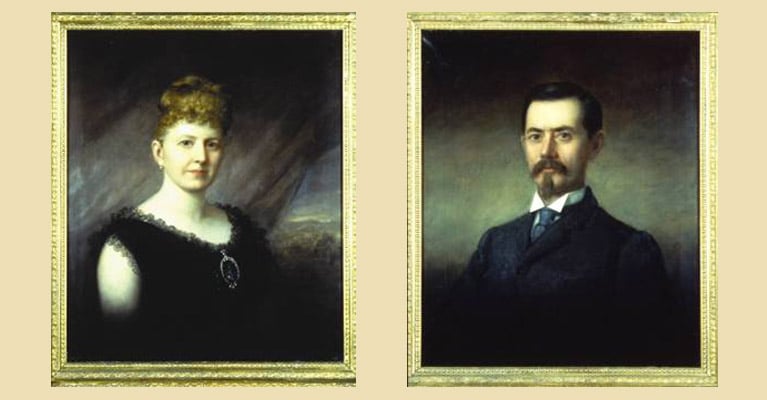 Portrait of Sallie May Dooley
Portrait of James Henry Dooley
Artist: William Garl Brown (1823-1894)
1889
Oil on Canvas
Bequest of James and Sallie Dooley
Maymont Mansion Collection
25.056 and 25.057
In 1889, when plans for the Dooleys' new residence on the banks of the James River were being finalized, the couple commissioned William Garl Brown to paint the companion portraits that have hung in the Maymont Mansion since its completion in 1893. The son of an English landscape artist, Brown (sometimes spelled Browne) immigrated to the United States with his family in the late 1830's. After several years in New York, Brown came to Richmond where he painted not only well-known Richmonders, including Lewis Ginter and Mr. and Mrs. Joseph Bryan, but also nationally prominent figures. He established a successful reputation as a portrait artist of leading Americans. Richmond sculptor and friend of James Dooley, Edward Virginius Valentine, remarked that Brown "had painted more Southern notables than any other artist." (1)
When the portraits were painted, James Dooley was 48 years old and Sallie Dooley was 43. The bust length portrait of Mrs. Dooley shows her wearing a black sleeveless evening dress trimmed with black lace. Her jewelry includes diamond earrings and a large oval brooch. This brooch compares to a carved cameo with three drop pearls and eighty old mine diamonds, which is mentioned in the 1925 inventory of Mrs. Dooley's jewels and jewelry. The background shows a curtain drawn back to reveal a distant landscape. It is signed on the back 'Wm Garl Browne pinxit-/ June 1889.' James Dooley's bust-length portrait is signed in the same manner. He is shown wearing a dark coat, white winged-collar shirt, and blue tie. The background is dark with no imagery. The frames are original.
The portrait of James Dooley was conserved in 1985 through a grant from the National Endowment for the Arts and donations made to the Maymont Council in memory of Margaret House Maeder. The portrait of Mrs. Dooley also was conserved in 1985 through donations from the Old Dominion Chapter of the Daughters of the American Revolution.
Notes
Moody Sims, "John Blenderhassett Martin, William Garl Brown, and Flavius James Fisher: Three Nineteenth Century Virginia Portraitists," Virginia Cavalcade, Autumn 1975, pp. 72-79.
Written by Dale Wheary, Maymont Curator and Director of Historical Collections and Programs, this post is part of a blog series commemorating Maymont Mansion's 125th anniversary. Each post in the series will detail significant objects, from sculptures and paintings to furniture and fine porcelain, in the Maymont Museum Collection.