125 Treasures: James Dooley's Pocket Watch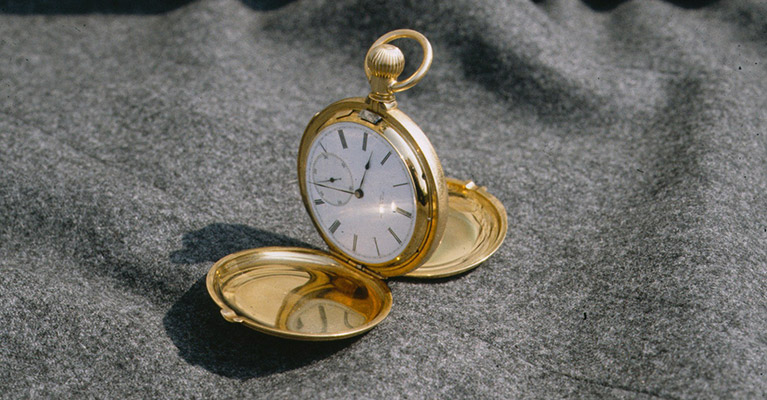 James Dooley's Pocket Watch
Tiffany & Co.
American
1886
18 Karat Gold Case
Maymont Mansion Collection
Acquired in 1985 through private donations
MF.85.007
This type of time piece, called a "minute repeater," sounds the time down to the minute, striking one chime for the hour, a double tone for each quarter hour, and then a single, higher-pitched tone for each minute after the quarter hour. A minute repeater was a very useful luxury item for a Victorian gentleman, especially when traveling at night.
This fine pocket watch has a 23-jewel movement and is set in an 18 karat gold case, which is engraved "JHD." The white enamel dial is marked "Tiffany & Co., New York" and the inside face cover is engraved "Tiffany & Co./Makers 18k 14665."
Tiffany & Co. archives show that this very high-end watch was purchased by James Dooley at the New York showroom on November 26, 1886 – the day after Thanksgiving. At that time, the cost of the watch was $425.
In an oral history interview, Mrs. Dooley's great niece and great nephew fondly recalled sitting on their uncle's lap as he demonstrated the intricate, melodious chimes for their entertainment. James Dooley left the watch to one of his doctors, Dr. Stuart MacLean. It was acquired for the Maymont Mansion Collection in 1985 with the assistance of long-time volunteer docent Bill Long, in whose memory it is displayed.