125 Treasures: James Dooley's Georgetown College Academic Medals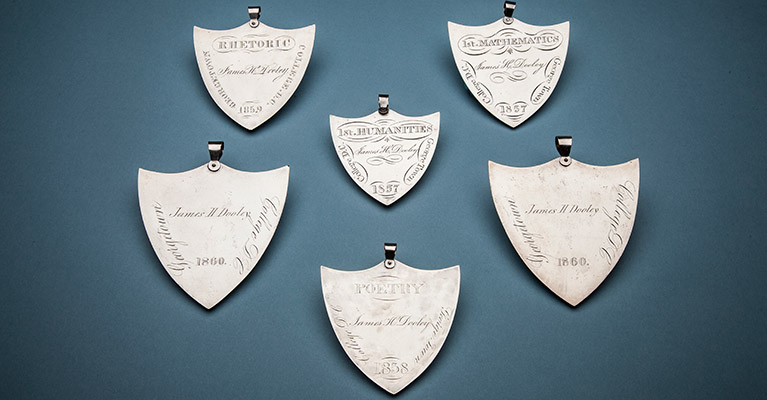 James Dooley's Georgetown College Academic Medals
Silver
American
1857-1860
Bequest of James and Sallie Dooley
Maymont Mansion Collection
25.270-274, 25.280, and 25.285
James Henry Dooley enrolled at Georgetown College (now Georgetown University) in 1856 and graduated in 1860, and he was first in his class each of the four years of his undergraduate studies. He was awarded the silver, shield-shaped medals now displayed in his bedroom. At Georgetown in his time, silver medals were awarded annually at commencement to students with the highest academic achievements. Near the end of his life, James Dooley told a friend that one of the medals he received at Georgetown was among his most prized possessions. (1)
The medals in the Maymont Mansion Collection are inscribed:
"1st Humanities/James H. Dooley/1857/Georgetown College, D.C."
"1st Mathematics/James H. Dooley/1857/Georgetown College, D.C."
"Poetry/James H. Dooley/1858/Georgetown College, D.C."
"Rhetoric/James H. Dooley/1859/Georgetown College, D.C."
"James H. Dooley/1860/Georgetown, D.C."/verso "Class of Natural Philosophy" (2)
"James H. Dooley/1860/Georgetown, D.C."/verso "Class of Mental Philosophy"
James Dooley received his Bachelor of Arts degree in 1860 at the head of his class and completed his Master of Arts immediately after the Civil War in 1865. In 1920, Georgetown University conferred upon him an honorary Doctor of Laws degree. The diploma written in Latin is preserved in the Maymont Mansion Archives (001.131). (3)
Notes:
"Major Dooley Expires," News Leader, 17 Nov 1922.
At Georgetown, the curriculum of the senior year was referred to as Philosophy and was divided into Natural Philosophy, as science had been called since the eighteenth century, and Mental Philosophy, which concentrated on ethics and ontology (the philosophical study of being, existence, and reality). It was considered the capstone of a classical education. See Robert Emmett Curren, The Bicentennial History of Georgetown University, 1993.
For more information regarding James Dooley's academic career, see Mary Lynn Bayliss, The Dooleys of Richmond: An Irish Immigrant Family in the Old and New South, 2017.